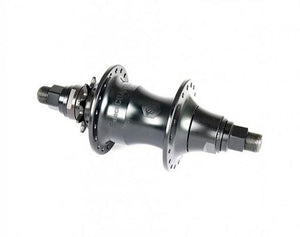 PROPER BIKE CO SELECT FREECOASTER HUB BLACK
Proper's new freecoaster uses the same reliable internals (designed by KHE) that you would expect to find in other brands (Odyssey, Federal, Primo etc) with that attention to detail and custom touches that you'll have come to expect from Proper hubs.  
One advantage of making BMX hubs for over a decade is that Proper have probably seen just about every potential problem over the years.
They wanted something more then a simple clone hub and therefore spec'd our own shell, cones, axle, and locknut and made sure the driver bearings are the most reliable version available. Also spec'd a male axle. We know other brands offer female axles but the feedback from our team was that they required more maintenance.
Anything other than a 17mm socket bolt (with 6mm broach) means carrying extra tools so we kept things simple and went with a standard bolt.
Most street riders run this style of freecoaster with the maximum amount of slack so this comes set up that way right out the box. There is washers in the box if you prefer less slack.
Matching guards are also available for the hub. Made from the super-tough new Ultramid nylon and replace the cone nuts so there is no need to spread your drop outs. 
Key features
RHD or LHD option

9t driver only

Flange width 4mm

Flange height 52mm

2 x 6002 bearings

17mm chromoly bolts with 6mm broach

155mm long and 14mm thick heat-treated chromoly axle

6061 shell and 7075 cones
Item may come from the warehouse and require extended delivery time. Contact with any questions or concerns.