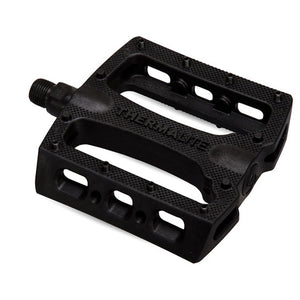 STLN BIKES THERMALITE SP
Thermalite pedals with steel pins.
- Features: Unique concave, low profile design molded w/ Thermalite nylon based material. Recessed end to prevent damage to bearing cover. Looseball bearings.
- Spindle: Chromoly w/ 6mm Broach and 15mm Wrench flats.
- Material: Thermalite™.
- Pins: Steel M4x0.7.
- Axle: 9/16".
- Colors: Black, or Purple.
- Weight: 13.8oz. (391g).