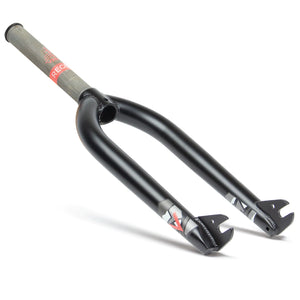 VERDE REGENT PLUS ONE FORK
Regent Plus One forks are a shorter offset version of our top seller. Plus One's feature a 25mm offset that brings your front wheel in closer to your bike. This helps make tech moves like nose wheelies easier. Regent Plus One forks are constructed of high quality 4130 chromoly, offer extra wide tire clearance (2.4" and larger), and include an integrated bearing race. You don't use a press on bearing race on these forks. Tapered fork legs reduce weight and increase tire clearance. A custom 7075 aluminum preload bolt is included. One stands for 1" which = 25mm.
SPEC
Height: 314mm (12.3")
Steerer tube length: 165mm (6.5")
Offset: 25mm (1")
Compression bolt: 25x1.5mm
Compression bolt tool: 6mm allen key
Weight: 39.8 oz
Item may come from the warehouse and require extended delivery time. Contact with any questions or concerns.